The Alert Center is an area in WellnessLiving where staff members receive alerts about certain activity within the system, such as client bookings or new Message Center messages. Staff members can also receive alerts on the Elevate Staff App. For more information, see Elevate Staff App: Viewing alerts.
Each staff member has individual settings for their Alert Center. These settings can be customized for each alert to determine whether the staff member receives the alert at all, receives the alert when it relates to their own services, or receives the alert when it relates to any staff member's services. Additionally, they can determine whether a sound should be played when a new alert comes in.
NoteIf All schedules is selected under Services and schedules, staff members will be able to select Alerts for all staff in their alert settings. If the staff role permissions are later changed to Only my schedule, the alerts will automatically be set to Alerts for me and they will only receive alerts relating to their own services.
NoteWhen an alert is sent for a client's service booking, cancellation, or request, and the service or client are later changed, these changes won't appear in the alert. For example, if the name of a service is change from Yoga to Hot Yoga after the alert is sent, the alert will still list the service as Yoga.
When a new alert comes in for a staff member, a red indicator will appear over the Alert button in the Top Nav Bar with the number of unread alerts

. Clicking this button will expand the Alert Center to display the three most recently received alerts. Staff members can click View more to see a complete list of their unread alerts. After viewing an alert, it will be marked as read. Alerts are automatically removed from the Alert Center after seven days.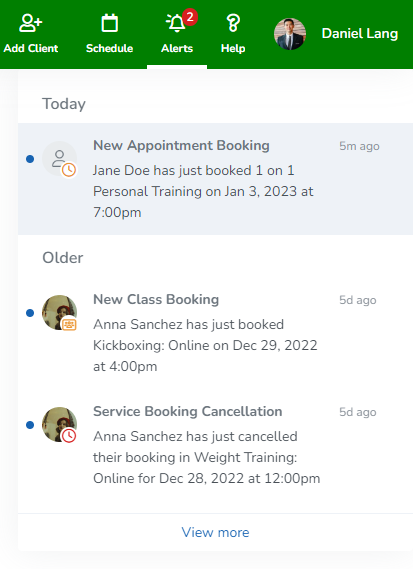 Related articles: