Clients are able to use a discount code when checking out of the store. A purchase can be a product, a package, a specific purchase option, or gift cards.
Note: Discount codes apply only to purchase options, gift cards of products in the online store. Clients who wish to use discount codes on services must apply the discount code to the purchase option prior to booking the service. Additionally, a discount code can only be applied to 128 items upon checkout.
In this article:
To Apply a Discount Code from the store:
In the top menu, click Store.
Select the products you would like to buy by clicking Add to cart.
In the shopping cart, click Add discount code. A text box is displayed.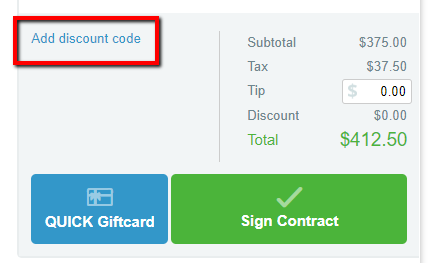 In the text box, enter your discount code. When you are done, click the Confirm button . Your discount is applied.
Click Proceed to Checkout.
Select the payment type or payment types you want to use. Each payment type selected is displayed below for you to input payment details.
To apply a discount code from the Book Now tab:
In the top menu, click Book Now.
Select the appropriate service tab. By default, these include Appointments, Classes, Events, and Assets.
Follow the steps to choose your booking preferences.
When your payment information is requested, you can enter your discount code in the box labelled Discount Code.
Click the Confirm button  to apply the code.
Click Complete.