The Overview page within a client's profile provides a general overview of the client's information and various easy-to-use client-related tools.
Basic client information is listed at the top of the Overview page and includes the clients' age, family members, client type, contact information, client registration date, and client ID. You can also quickly send an email to the client's email address by clicking the Send email button

, send a text message by clicking the Send sms button

, or send a postcard by clicking Send postcard (if available).

Below the client's basic information you will find a set of quick access buttons you can use to book services, or make a purchase for the client. If your business has gym visits enabled, you can add a gym visit to the client's attendance history from here, as well.

Continuing down the page, you will find an overview of the client's Purchase Options, which lists the client's Active Passes. You can also click Pass History to view the client's expired and used up passes.

Next, the client's Quick Check-in options are displayed, where you can quickly check a client into a service, and even check in and pay for the service. By default, only the services at the client's home location are listed. You can view services at other locations by clicking the menu at the top of the list.

In the next section, you can see the client's User Activity, which lists the client's most recent account activity in chronological order. Any reward points issued for the action are listed to the right. To view the complete list of user activity, at the bottom of the list, click VIEW ALL.

To the right of the client's basic information, various tools, information, and quick access options are available:
ACTIVATE CLIENT – You can set this option to ON or OFF. If it is ON, the client account is active in the system and can be booked into classes, checked-in, and so on. If it is OFF, the client is deactivated.

Reward – Displays the client's total reward points and upcoming milestones. Click the Option button to access various reward-related options, such as the Earn Points tab, and Prizes tab.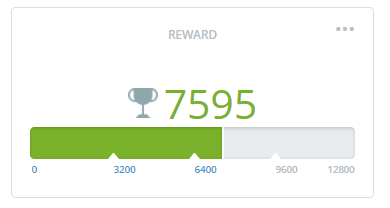 Belts – If your business uses belts, they will be listed next.
Client Alerts – If you have any alerts setup, they will be listed next. They can also be found immediately below the quick access booking buttons.
Tasks – Any tasks related to the client are listed below the alerts.
Attendance/Schedule – If the client has a fully registered account, the next section offers a quick overview of the client's recent attendance and upcoming schedule. For complete details, click VIEW ALL.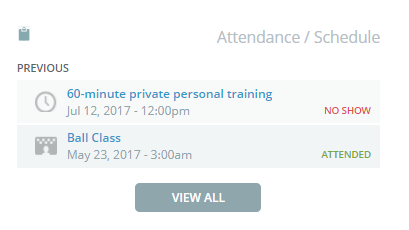 Reviews Written – If the client has written any reviews for your business through WellnessLiving, they will be listed here. You can click any of the reviews to view them on your WellnessLiving directory page.