If clients need to know how many visits they have left before the expiry date of a membership or session pass with attendance restrictions, they can log in to the Client Web App, click My profile, and then click the Passes & Memberships tab.
The number of sessions they can book in each attendance restriction period is displayed under REMAINING, and clients can multiply this by the number of attendance restriction periods left before the expiry date to determine the total number of remaining visits that they have.
For example, say that you are a client. On April 12, you log in to the Client Web App and check the membership below: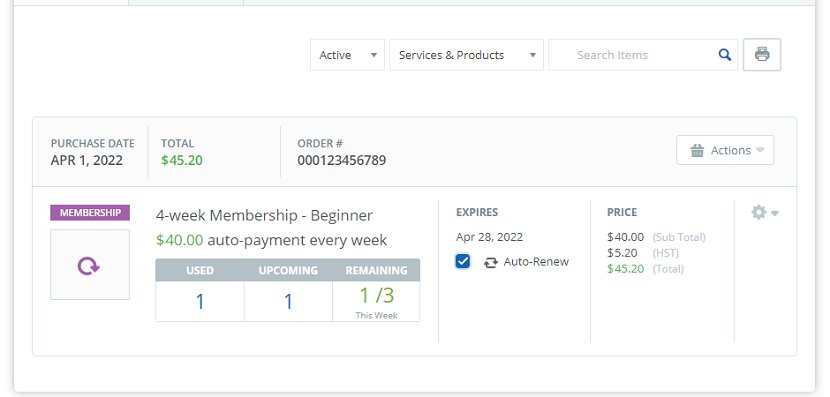 This is a four-week membership purchased on April 1. Under REMAINING, the membership shows a restriction of three visits per week. You can multiply the number of visits per week by the number of weeks in the membership (four) to determine that you get a total of 12 sessions with the membership.
You're viewing this membership on April 12, which is in the middle of the second week of the membership (April 8 to 14). You have one visit left for this week, and two more weeks in the membership with three visits each, leaving you with seven visits remaining.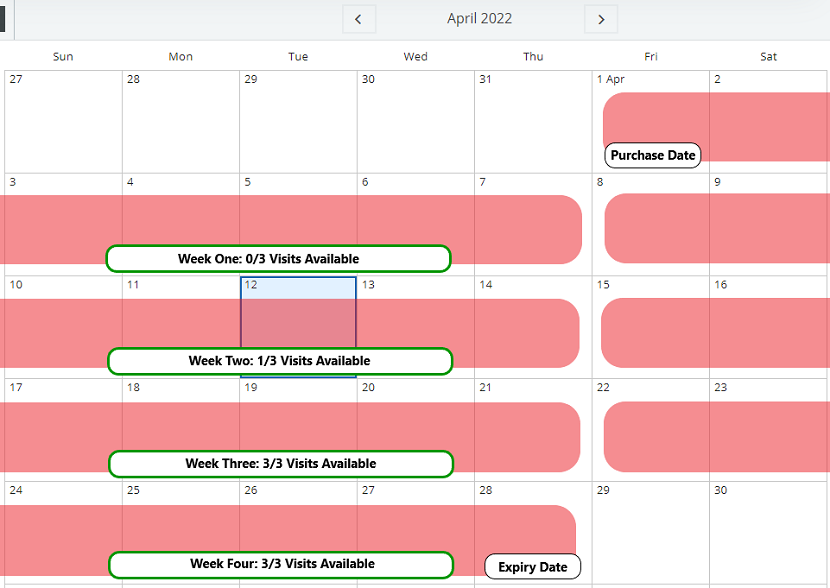 Keep in mind that some Purchase Options may have more than one attendance restriction applied to them. For example, you might offer a three-month membership that allows ten visits per month, but also allows membership holders a maximum of three visits per week. Clients can use the arrow buttons under REMAINING to see each attendance restriction period, and they should use the longest available period when calculating the total number of remaining visits for the Purchase Option.
Also keep in mind that attendance restriction periods will vary depending on whether they're applied at the start of the calendar cycle or the payment cycle. For example:
If a weekly attendance restriction is based on the calendar cycle, then each period starts on a Sunday and the visit count resets on the following Sunday.
If a weekly attendance restriction is based on the payment cycle, then the first period starts on the purchase date and visit count resets every seven days.
Staff members of the business can tell clients if their attendance restriction is applied to their payment date or the calendar cycle. For more information and examples, see Attendance restrictions.