When a service such as an Appointment, Class, Event, or BOOK-A-SPOT™ has been deactivated, it will no longer be visible in WellnessLiving's default list. You can choose to view these services by filtering for inactive services.
To locate deactivated services:
Click the App Drawer button .
In the App Drawer, click Setup.
Click the service category (i.e., Classes, Appointments, Events) you wish to view in the Setup menu.
Click the Filter button in the top-right corner to expand the Filter menu.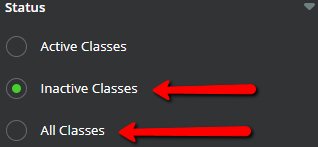 Click Status.
Click the button next to Inactive. If you wish to view both inactive and active services, click All Services.
Click the Apply Changes button. A list of inactive services is displayed.