Thank you for using WellnessLiving.  
Our minimal "Powered by WellnessLiving" branding badges appear at the bottom right corner of our software. These non-intrusive badges only include the WellnessLiving logo and name. 
As always, our software remains completely free of distracting advertising or branding practices. We respect your business, its customers, and staff members.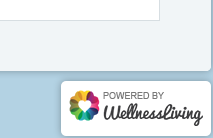 The ability to use the Achieve Client App without WellnessLiving branding is available with the White Label plan. For an additional fee, the option to remove WellnessLiving branding from the desktop version of Wellnessliving is also available. To learn more, contact your WellnessLiving Specialist.