Problem
When changing the email address on a client's profile, you receive the error message: "Email is in use. Please login to your account.", but there are no clients registered at your business with this email address.
Solution
This error message is displayed when a client has used the same email address to register a WellnessLiving account with another business. A staff member must add the client to your business and then verify the user information by clicking YES, THIS IS CORRECT USER in the confirmation popup.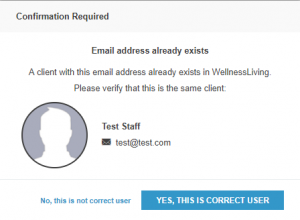 There will now be two profiles for the client at your business. To eliminate the duplicate profile, you can merge the profiles from the new account you have created. This will remove the client's old profile with your business and merge it into the profile you have just created.