Problem
When a client clicks on a direct buy URL to purchase an item, they receive the error message Error: This item is not for sale.
Solution
This error message is displayed when an item's purchase restrictions are set so it can only be sold by staff members, not purchased online by clients.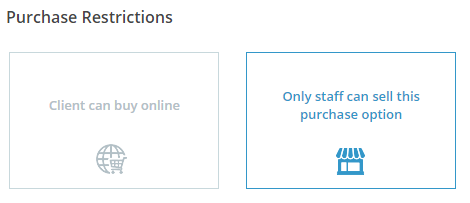 To resolve this issue, change the item's purchase restrictions:
Click the App Drawer button .
In the App Drawer, click Setup.
On the Setup menu, click Store Configuration.
On the Store Configuration menu, click Purchase Options, Products, or Gift Cards depending on which item you are modifying.
In the list, find the item that you want to modify.
Under Purchase Restrictions, click Client can buy online.
Click SAVE.