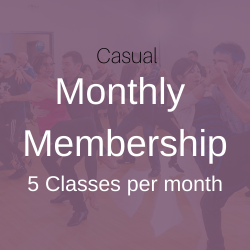 Casual Monthly Membership (Auto Renew)
Description
Want to attend one class per week? The casual membership pass is for you :-)
All students with auto re-new or yearly memberships get a discount off all workshops and social dances.
There is a MINIMUM 3 MONTH COMMITMENT
Students must pass assessment to attend levels 3-5 in each dance style.
Terms
- Monthly Auto Renewal will be automatically billed to your credit card or deducted from your account at the same time each month/year until you cancel.
- Debit cards are NOT acceptable forms of payment for this membership.
- They are non refundable , non transferable and can not be shared or redeemed for cash.
- Students on this membership receive discounts for performance memberships.
- A minimum 3 months membership payment is required before cancellation or a hold is accepted.
- Hold may be done twice during the year. Minimum of 2 weeks to a maximum of 8 weeks in total.
- The student must request the suspension in writing via email at least 3 working days before your payment day.
- The student must request cancellation in writing via email at least 3 working days before your payment day. No refunds or partial refunds will be issued after the payment has been processed.
- THERE ARE NO CREDITS OR REFUNDS FOR UNUSED MONTHLY MEMBERSHIPS. Monthly deductions will continue regardless if your choose to book classes until the cancellation notice is received.
- Schedule, hours of operation & classes are subject to change without notice. Pivot reserves the right to add or remove courses from the timetable.
- Bookings are essential for all courses. Without booking the students may not be allowed to participate in the class. Numbers are restricted per class.
- Pivot reserves the right to cancel classes in the instance we cannot find an appropriate instructor or weather conditions.
- Unsuccessful payment will be charged $15 administration fee.
Details
Purchase Option type
Clients can attend
Sessions
Attendance Restriction
Duration
Purchase Option type:
Membership
Clients can attend:
Client can attend all current and future classes
Attendance Restriction:
5 x month
Subtotal:

$

79

.00

Tax:

$

10

.27
Discount:

$

0

.00

Total:

$

89

.27