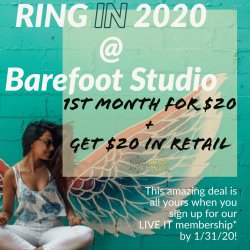 2020 membership special
Description
Welcome to 2020!! We are so excited you are interested in joining our yoga community. What a great way to get the year started.
The first month of membership dues, only $20.
$98 monthly afterwards for a minimum of 6 months
LIVE IT MEMBERSHIP CONTRACT IS REQUIRED. All membership information is available in the contract.
Live it – Unlimited Membership** - $98 (Holy moly, the value increases the more you attend.)
Come all day, every day if you so wish. With over 200 regularly scheduled classes every month, how can you go wrong? We believe your commitment to health and wellness deserves to be rewarded. What else do you receive for joining? Take a look:
• 20% off all Barefoot Studio Workshops – Every month the studio offers phenomenal workshops and special courses to educate and enhance your wellness journey. Your membership gifts you with exclusive pricing on each and every special event.
• 20% off all Barefoot Studio Retail – Who doesn't like to save on fun barefoot gear? Enjoy your discount on all regular price items within the boutique.
• 1 free VISIT pass each month*** - Sharing the yoga love is so important to us. Once a month, your guest is "on us".
• Earn credit on your account!!**** – When your guests chose to join too, you receive $20 credit toward workshops and retail!
Details
Purchase Option type
Clients can attend
Sessions
Duration
Purchase Option type:
Membership
Clients can attend:
Client can attend all current and future classes
Subtotal:

$

20

.00

Tax:

$

0

.00
Discount:

$

0

.00

Total:

$

20

.00