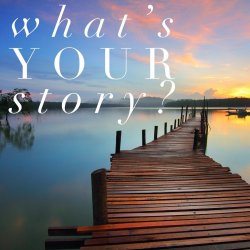 DISCOVER YOUR STORY
Description
What If the LIFEStory You've Been Telling Yourself and Others Doesn't Have To End the Way You Thought?

What if everything you've been told about the storybook ending is actually possible?
Here it is…you're probably not even aware of your powerful ability to create fulfillment, joy, love, vitality, health, and abundance because most people have been fed the lie that life is just a thing that happens to you, a fated destiny, a luck of the draw…it's time to pull back the curtain and Discover Your Story.
You will learn how to become more empowered, more vibrant AND stronger than ever before, when you're ready to place the oxygen mask on yourself now.
A recognized NLP Trainer will be your guide as you uncover the old storylines that are standing in your way and you reveal the path to the life you thought only existed in a good book or a great movie.
Imagine… Discovering Everything You Need to Successfully blow through all the barriers holding you back in Your Life... Including Your Past!
Do people regularly pay $2500 or more for training in these NLP techniques? Yes. And now we are sharing these tools and strategies with you in our event, Discover Your Story.
This phenomenal weekend event will take your life and flip it upside down, help you smash the "reset" button! Imagine releasing the baggage of old emotions and crushing any roadblocks that once stood in your way. What would that do for you?
* You'll banish fears
* Empower yourself
* Get rid of negative emotions
* Improve your relationships
* Have an EPIC "breakthrough" experience
AND so, so much more… so that you can finally show up and be the hero of your LIFEstory
This is everything but a "condescending lesson", rather it's an interactive playshop to empower and uplevel YOU, where learning actual NLP techniques that you will use to design the life you desire, can result in the storybook adventure you've always dreamed of.
Details
Purchase Option type
Number of Sessions
Duration
Purchase Option type:
Session Pass
Duration:
Does Not Expire
Subtotal:

$

97

.00

Tax:

$

0

.00
Discount:

$

0

.00

Total:

$

97

.00