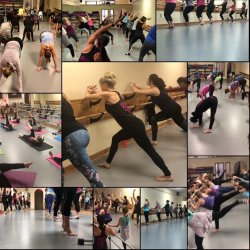 2 Months Free! Paid in full - Exhilarate 3 Classes a Week
Description
Congratulations! You have purchased the "Exhilarate" 3 classes per week, 12 months pre-paid membership, which includes all of our classes: Barre, Stretch and Barre Motion! You choose which classes to take, i.e: 1 Barre, 1 Stretch, 1 Barre Motion for the week. A total annual savings of $378!
Your pre-paid membership does not have any start up or hidden fees. Being a small, boutique studio, our 12 month membership cannot be held on hold, since we keep our pricing below retail prices.
Our 12 Month 3 classes per week "Exhilarate" Membership provides all of the following benefits:
*13 Monthly classes
*Team Barre Events
*Holiday Party
*Anniversary Party
*No Sign Up Fees
*50% off Bootcamps (for the duration of your unlimited membership)
*Private Facebook Group Page
*A Fun and Unique Workout
*Individual Orientation
*Measurement and Weight Tracking
*Form and Technique 1 on 1
*Nutrition Planning
*Reduced out of town guest drop in fee of $10 - guest must be accompanied with you and must be 18 yrs+
*Special "Mother/Daughter Class" Members may bring their mother or daughter in for free for this particular class. Daughters must be 14+ years of age.
We are so happy you are joining us! You will love the workout, studio, instructors and community. Not only will you improve your overall physical health and fitness ability, you will gain confidence, improved attitude - mental health and our Barre family:)
Details
Purchase Option type
Clients can attend
Sessions
Attendance Restriction
Duration
Purchase Option type:
Membership
Clients can attend:
Client can attend all current and future classes
Attendance Restriction:
13 x month
Subtotal:

$

690

.00

Tax:

$

0

.00
Discount:

$

0

.00

Total:

$

690

.00