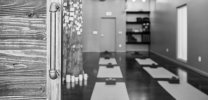 Description
Tadasana or Mountain pose can be the root of alignment in every other pose! Come find out how to become present to alignment in your body in each and every pose.
Alexia will offer tips and tricks to lengthen and align the spine, nuetralize the shoulders and hips and ignite and engage the extremities. This workshop presents a great opportunity to the new or experienced practitioner, drilling down into solid alignment principles and creating new possibility for you in your practice.
Stay after the workshop to take Power Up/Power Down to immediately put your new learnings into action.
Details
(Type: Event, Period: Aug 25, 2019 - Aug 25, 2019, Sessions: 1)
Duration
Days of week
Time
Location
Staff
Repeat every
Subtotal:

$

25

.00

Tax:

$

0

.00
Discount:

$

0

.00

Total:

$

25

.00