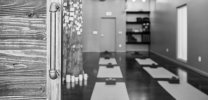 Yogadventure: Paint and Flow at Enchanted Rock
Description
Start your weekend by awakening your senses with a revitalizing hike to the Summit of Enchanted rock. Vanessa will guide you into a 10 minute centering meditation and into a dynamic 50 minute POWER YOGA FLOW. Feel the power and peace of the ROCK as we flow with our body's one breath one movement. Then, we will wind down with a PAINT session lead by professional art instructor Cameron Reinelt. She will teach us how to use WATERCOLOR and create a beautiful piece of artwork. After all the fun, we will hike back down with a new appreciation of Enchanted Rock, and enjoy the scenery with Shivani Kamodia as she guides us with her hiking expertise down the Rock.
After our Paint & Flow, we will stop in the nearby the beautiful town of Frederiksberg, Texas. You have the option to explore on your own.
Special Instructions
Bring:
Yoga mat or towel, water, and appropriate footwear for the trip to the summit.
Sunscreen, bugspray
Details
(Type: Event, Period: Nov 23, 2019 - Nov 23, 2019, Sessions: 1)
Duration
Days of week
Time
Location
Staff
Repeat every
Subtotal:

$

70

.00

Tax:

$

0

.00
Discount:

$

0

.00

Total:

$

70

.00