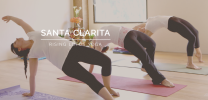 Urban Zen Integrative Therapy Workshop & Training Information
Description
Deepen, heal and transform yourself with the integrative modalities of Urban Zen Integrative Therapy (UZIT). Join Jessica Miller at Rising Lotus Yoga in SCV on October 12 from 3:00 pm - 5:00 pm
This workshop wil linclude a full Urban Zen Integrative Therapy session as well as a Q & A session afterwards for those who want to learn more about how to incorporate this practice into their own lives or those interested in our upcoming UZIT training happening this JAN at RLY SCV with Jessica Miller where you will explore the five modalities of the Urban Zen Integrative Therapy, experience the clinical application of UZIT and learn how this work is being administered in Health Systems and hospitals across the country.
Tickets are $30 and space is limited, so book this event today!
BONUS! If you book this event as well as sign up for the UZIT training - the cost of this event will be applied towards your UZIT training fees! YASSS! Don't wait! Sign-up TODAY!
Details
(Type: Event, Period: Oct 12, 2019 - Oct 12, 2019, Sessions: 1)
Duration
Days of week
Time
Location
Staff
Repeat every
Subtotal:

$

30

.00

Tax:

$

0

.00
Discount:

$

0

.00

Total:

$

30

.00
Only the first 50 items are displayed. Use the Search or Filter options to show more.