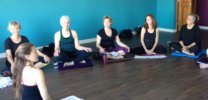 The Nature of Consciousness
Description
Join Joyce Kendall for a 6 week meditation teaching on the Nature of Consciousness: Teachings from the Kashmir Savia Tantra Tradition.
The classes will meet weekly on Thursday evening from 6-7pm. Lecture will be 45 minutes with a 15 minute Q&A. Class starts April 30th.
April 30th
Meditation – A Natural Process – understand the mechanism of the nature of awareness as moving towards 'more' and how effortless a meditation practice should be. Basic meditation will be offered as well as invitation to an initiatory practice.
May 7th
The Art & Power of Japa – Understand the vibrational concept of reciting mantras how they can shift your body/mind perspective and raise your vibrational frequency. [some mantras will be offered]
May 14th
The Rainbow Spectrum – a look at the values of Consciousness and the various levels of materiality as it relates to various states of Consciousness.
May 21
Śiva Sūtras – A look at the first 6 Sūtras of the Śaiva Tantrā Tradition as an exploration of the Nature of Consciousness and the material world.
May 28
Vikalpa-saṃskāra - The Refinement Process – How do we refine our perspective and understanding so as to expand our spiritual journey. A discussion on releasing old patterns [saṃskāras] of behavior that do not serve us.
June 4
Naṭarāja – The Dance of Śiva – The 5 Sacred Acts of Śiva and how this manifests in your life and how you can shift to align and dance in harmony with the Great Absolute Consciousness.
Details
(Type: Event, Period: Apr 30, 2020 - Jun 4, 2020, Sessions: 6)
Duration
Days of week
Time
Location
Staff
Repeat every
Subtotal:

$

180

.00

Tax:

$

0

.00
Discount:

$

0

.00

Total:

$

180

.00