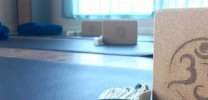 Breath As The Bridge: A Pranayama Workshop
Description
The yoga tradition describes breath as the bridge to access different layers of our human experience. It is the essential link between the conscious mind and unconscious patterns; spanning from physiological feedback loops to emotional reactivity and racing thoughts.
Join Melanie in this exploratory workshop to discover the power of breath and how pranayama techniques can help us observe and even begin to shift our physical, emotional, mental, and energetic states of being.
EVERYONE is welcome.
Details
Type: Event
Period: Oct 9, 2021 - Oct 9, 2021
Number of Sessions: 1
Duration
Days of week
Time
Location
Staff
Repeat every
Subtotal:

$

45

.00

Tax:

$

0

.00
Discount:

$

0

.00

Total:

$

45

.00