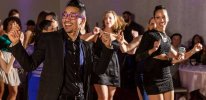 STUDIO TEEN Latin (ages 13-17)
Description
TEEN Latin (ages 13-17)
Days & Times:
Wednesdays 4:45pm-5:45pm
Location: Baza Dance Studios, 1304 Seymour St, Vancouver
Instructor: Arely
**This is an In-STUDIO Class**
Description:
This class is an amazing way to get active, learn some fun dance moves, and connect with other Teens. In our TEEN Latin classes, we will be introducing a mixture of popular Latin Dances and Music such as Salsa, Bachata, Merengue and Reggaeton! Throughout the term we will teach movement and musicality, and some choreography which they will perform at the end. There will be some solo and some partner dancing involved.
**LIMITED SPOTS AVAILABLE**
Pricing:
1 Term - $200
2 Terms - $360
3 Terms - $510
NOTE: Our in-studio classes sizes will be limited. No refunds once the program has started. We also please ask you to cancel your class if your child is unable to attend in any given week.
How to Register:
-----------------------
1) Create an account for yourself (the parent)
2) Go to your profile, and add your child as a family member
3) Using your child's profile, go to "Book Now" and register for the Kids program of your choice!

Any questions or problems, don't hesitate to call us at 778-379-2292 or email dance@bazadance.com
Special Instructions
Click this link for further information about our kids and teen schedules.
Details
Type: Event
Period: Jan 12, 2022 - Mar 9, 2022
Number of Sessions: 9
Duration
Days of week
Time
Location
Staff
Repeat every
Duration:
Jan 12, 2022 -
Mar 09, 2022
Location:
Baza Dance Studios
Subtotal:

$

200

.00

Tax:

$

10

.00
Discount:

$

0

.00

Total:

$

210

.00