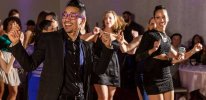 (Open Level) Cha Cha Workshop
Description
(Open Level) Cha Cha Workshop
—————————————-
The cha-cha-cha (also called cha-cha), is a dance of Cuban origin. It is danced to Cha Cha Cha music introduced by Cuban composer and violinist Enrique Jorrin in the early 1950s. The name of the dance is an onomatopoeia derived from the shuffling sound of the dancers' feet when they dance two consecutive quick steps (correctly, on the fourth count of each measure) that characterize the dance.
In this workshop Arely and Juan will be breaking down the Cha Cha footwork as well as incorporate the steps into partner work! The next time you hear a Cha Cha song playing, you won't have to sit out....you'll be able to get up and dance!
This workshop will be catered to students who already have partner dance experience and won't be suited if you are an absolute beginner dancer.
**No partner required, we will be rotating partners throughout the workshop
Price: $45 before Nov 22; $50 from Nov 22
Instructors: Arely & Juan
Dates & Times:
Saturday Nov 27
12:30pm-2:30pm
Details
Type: Event
Period: Nov 27, 2021 - Nov 27, 2021
Number of Sessions: 1
Duration
Days of week
Time
Location
Staff
Repeat every
Subtotal:

$

50

.00

Tax:

$

2

.5

0
Discount:

$

0

.00

Total:

$

52

.5

0