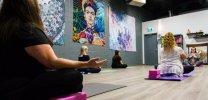 Description
Join Trista Davis for 2 hours of education, breath, movement and magic around the amazing system called the Chakras.
Experience a 1 hour conscious connected breathwork that will take you on a journey through the Chakras creating more balance in the body! We will explore themes of Safety, Creativity, Personal Power, Love, Speaking Your Truth, Trusting Intuition and Connecting with a higher power!
Learn about each Chakra, receive take home handouts, breathe and experience the beauty of conscious connected breathwork and share in community!
Details
Type: Event
Period: -
Number of Sessions: 0
Duration
Days of week
Time
Location
Staff
Repeat every
Subtotal:

$

29

.00

Tax:

$

1

.45
Discount:

$

0

.00

Total:

$

30

.45