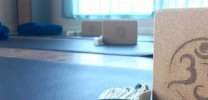 Asana and Beyond: A Journey into the 8 Limbed Path
Description
Did you know there's more to yoga than poses? Drawing on almost 25years of practice, CJ will introduce you to a breadth of yogic techniques. This course will weave together active and gentle yoga postures (asanas) with other limbs of yoga including philosophy, breathwork (pranayama), meditation and more. Asana and Beyond is appropriate for all levels, including beginners and more experienced students who are looking to broaden the scope of their practice and their understanding of yoga.
What is it?
Through 3 monthly intensives, we will explore the physical practices of asana, the energetic practices of pranayama and the mindful practices of meditation through the lens of foundational yogic philosophy.
You'll walk away with:
-Action and alignment of over 50 poses
-A new daily, personal practice created together each month
-An understanding of when and how to use props, and even create some of your own at home
-5 breath techniques to help you regulate your nervous system and cultivate peace
-3 styles of meditation which you can put into practice in your daily life
-A clear understanding of yoga's Eight-Limbed Path serving as guidelines to live a meaningful and purposeful life.
Every class includes Movement, Breathwork, Philosophy and Meditation
*Level up and add unlimited mat classes to practice what you learn
Special Instructions
Monthly Intensives:
Sunday, February 27th, 12-3p
Sunday, March 27th, 12-3p
Sunday, April 24th, 12-3p
$150 for the series or $60 individual intensive modules
BONUS ADD-ON: Save BIG and put into practice what you learn by either enrolling concurrently in unlimited mat class offerings or saving this special deal to enjoy following your course completion. Only $129 a month*, regularly $189 (* add on available to new students only)
Details
Type: Event
Period: Feb 27, 2022 - Apr 24, 2022
Number of Sessions: 3
Duration
Days of week
Time
Location
Staff
Repeat every
Subtotal:

$

150

.00

Tax:

$

0

.00
Discount:

$

0

.00

Total:

$

150

.00