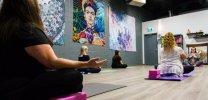 Transformational Breathwork: Release and Let Go
---
Details
Period:
May 29, 2022 - May 29, 2022
Duration
Days of week
Time
Location
Staff
Repeat every
---
Description
Join us for a 2 Hour Session where we will use tranformational breathwork called Concious Connected Breathwork to assist in letting go of all that does not serve you. It is time that you released old patterns of behavior, stuck emotion, fear? This longer session of breathwork will help you to do just that. When we engage in Concsious Connected Breathwork we enter an altered state of awareness to allow for nurturing, love and healing! It is a remarkable experience and most people come out of the session with new awareness and a feeling bliss.
Expect:
Brief Discussion on releasing, letting go, and letting be
75 min group Conscious Connected Breathwork
Mantra
Debrief and Closing
Conscious Connected Breathwork is EXTREMELY powerful - it is essential that you read and agree to the waiver below before you join us. If you have questions or concerns, please get in touch.

I cant wait to breathe with you!
What is Conscious Connected Breathwork?
Conscious Connected breathwork is a style of breathing that allows you to get really present with the body, mind and heart. It is done lying down, to music and to me it is a deep form of meditation that helps you to unplug from the outside world but also allows release of emotions and leaves you feeling present, open and relaxed. Breathwork can be transformational with just one session! I would love for you to try it out with me!
Please read the instructions and waiver in the Special Instructions.
Show more
---
Special Instructions
Please be sure that you have a safe, comfortable space to lie down in possible where you will not be inturrupted for 1 hour. If you can not lie down you may sit comfortably but please no standing. If breathing becomes uncomfortable or too much at anytime please change tha pattern of your breath or return to a normal pattern of breath for you. Please stay in the room whenever possible until its time to share so that we can check in with you when we are finished.
Contraindications to breathwork are as follows. If you have any concerns before registering please contact Trista at aboveaverageyoga@outlook.com
Contraindications
-schizophrenia and bi-polar, heavy anti psychotic medication
-Epilepsy
-heart conditions
-previous stroke
-high or low BP
-glaucoma or detached retina
-early pregnancy or difficult pregnancy
-impaired by alcohol or drugs
***Breathwork Waiver ***
I understand that even though I have been accepted as a participant, I am responsible for any consequence resulting from any breathwork practice.

I certify that I have taken medical advice relating to any physical, mental or emotional condition that may impair my judgement, or have any affect on my physical health, and am able to undertake breathwork.

I understand that conditions such as schizophrenia, bipolar, epilepsy, heart conditions, low blood pressure and pregnancy, can be contraindications to conscious connected breathwork.

I understand that if I am taking any medications or have any medical conditions then I must discuss with the facilitator before I start a breathwork.

I understand and acknowledge that a breathwork
a) is not intended to replace any relationship I have with my medical doctor and/or primary health care provider(s);
b) is not intended to constitute medical advice or any substitution for medical care;
c) is not intended to be relied on for prescriptions, recommendations, diagnosis or treatment in relation to any health problem or disease;

I understand and acknowledge that, in undertaking breathwork practices I am doing so at my own risk. It is with that understanding that I voluntarily execute this release and waiver.
Show more
Subtotal:

$

29

.00

Tax:

$

1

.45
Discount:

$

0

.00

Total:

$

30

.45