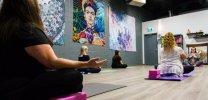 A Grounding Yoga Nidra Workshop
---
Details
Period:
Jun 10, 2022 - Jun 10, 2022
Duration
Days of week
Time
Location
Staff
Repeat every
---
Description
Join Misty for this 90 minute Yoga Nidra practice.
What is Yoga Nidra? It is translated as Yoga Sleep and is a guided meditation practice that is beneficial to your physical, mental and emotional bodies. This practice is spent in Savasana or resting pose and is meant to be a restorative practice. You will find yourself in a comfortable position and then allow yourself to be guided by Misty into rest, relaxation and grounding. We begin with finding yourself in a safe place (mentally and physically), then we move onto a body scan, some breath awareness and end with gratitude. This will be a truly restful evening, that is just for you. Join Misty and give yourself this gift of grounding and gentleness.
Show more
Subtotal:

$

25

.00

Tax:

$

1

.25
Discount:

$

0

.00

Total:

$

26

.25