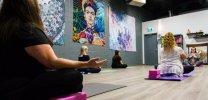 Yoga for Healing
---
Details
Period:
Jun 5, 2022 - Jun 26, 2022
Duration
Days of week
Time
Location
Staff
Repeat every
Duration:
Jun 05, 2022 - Jun 26, 2022
Days of week:
Sun
Time:
7:00PM - 8:30PM
Location:
Above Average Yoga
Staff:
Taylor, Trista
Repeat every:
1 week
---
Description
Join Trista Davis and Taylor Wideman for 4 weeks of relaxing, rejuvenating and restorative gentle yoga paired with self healing techniques to manage your stress and create more ease in your life.
What is Restorative Yoga? Well.... it is like a conscious meditative nap in supported yoga postures helps to nourish the nervous system and creates the ultimate relaxation experience. It draws on stillness and darkness to help quiet the mind and allow the body to let go and relax.
Here is what we have planned for the 4 weeks! We hope that you will join us!
Restorative Yoga and Sound
Learn to bring sound and vibration into your daily practice and be restored by the simplicity of gentle restorative yoga. Experience chanting, singing bowls, the gong and learn 3 simple mantras to bring balance and compassion into your life. This session is led by Trista
Restorative, Tapping and Self Healing Techniques
Along with restorative yoga learn simple techniques with tapping to bring relief and balance to the body and the entire energetic system. Taylor is leading this session a certified BodyTalk Instructor and Reiki Master and will teach you simple healing techniques that anyone can do!
This session will start with a gentle yoga warm up, learning 3 breaths to incorporate into your daily life, a mini conscious connected breathwork session, complete with a deep Yoga Nidra meditation in your favorite restorative yoga posture. This session is led by Trista Davis a certified Breathwork Facilitator.
Enjoy a restorative yoga class to balance the energetic system of the Chakras complete with essential oils and music to balance each Chakra. This class will be completed with a Savasana sound bath with the gong and singing bowls! This session is led by Taylor!
Show more
---
Special Instructions
Please make us aware of any and all essential oil, plant or food allergies upon registration
Show more
Subtotal:

$

89

.00

Tax:

$

4

.45
Discount:

$

0

.00

Total:

$

93

.45