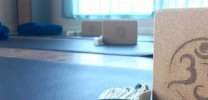 Sacred Centers: An Introduction to the Chakra System
---
Details
Period:
Aug 27, 2022 - Aug 27, 2022
Duration
Days of week
Time
Location
Staff
Repeat every
---
Description
Join Kaylee for a colorful and eye-opening journey into the seven-tired chakra system. In this introductive workshop, you'll learn the properties of each chakra and how they can help you know yourself better and control your energetic flow. Like constellations, the chakras will help you connect the dots between your mind and body to paint a picture of your whole, undivided Self.
This workshop includes a 90-minute yoga and meditation practice so you can embody what you've learned, as well as a handmade chakra bracelet provided by Indriya Jewelry.
Show more
Subtotal:

$

75

.00

Tax:

$

0

.00
Discount:

$

0

.00

Total:

$

75

.00