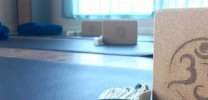 Fall Rejuvenation 4-Week Workshop
---
Details
Period:
Sep 11, 2022 - Oct 2, 2022
Duration
Days of week
Time
Location
Staff
Repeat every
Duration:
Sep 11, 2022 - Oct 02, 2022
Days of week:
Sun
Time:
4:00PM - 5:30PM
Location:
Raga Yoga
Staff:
Robin
Repeat every:
1 week
---
Description
Join Yogi Well Fed Founder, Robin Spiegleman, and take a month-long journey toward healing your guy, balancing your hormones, and improving harmony between your mind and body. This Ayurvedic Inspired Reset will reboot your metabolism and reset your mind and body back to their natural balanced state of health and vitality. You will learn tools to carry with you on your journey to health and well being.


What's Included:
- 4 weekly 90min live lessons (recordings will be made available if needed)
- Each lesson will include a 30min yoga session related to the topic of the day combined with an hour of group learning.
- A personal journal to support class materials
- Healthy recipes
- Discover your Dosha and create balance by learning Ayurveda's holistic view of body and mind.
- Develop food recommendations and practices built just for you
- Learn practical easy to implement daily routines for op;optimizing meals, rituals and supportive practices
- Get clarity around digestion, the 5 elements, and exactly what foods and lifestyle habits are most helpful to you
- Balance your hormones
- Increase your digestive fire to optimize your nutrient absorption
- Revolutionize your health, boost your energy and transform your body
- Heal your gut, boost your metabolism, improve your digestion and create balance
Show more
---
Special Instructions
Check out www.ragayoga.com Events Page for weekly class details
Raga Members SAVE $20 with code: YOGIWELLFED at checkout
Show more
Subtotal:

$

40

.00

Tax:

$

0

.00
Discount:

$

0

.00

Total:

$

40

.00