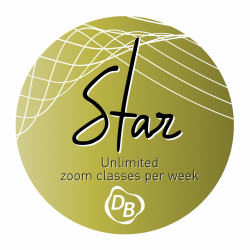 Star Enrollment + Registration
Description
Have the ultimate Dance Break experience and best results with unlimited zoom classes. Build relationships with Industry Professional teachers, hone your craft, and become a versatile and smart dancer.
Trainee Enrollment = $350/mo
Annual Registration Fee = $30
- Includes unlimited zoom classes per week.
- Your membership will renew once a month on the date of purchase and missed classes will roll over to be used for up to 3 months.
- Receive 2nd priority registration and discounts on Master Classes and events
Registration covers your onboarding experience, registration system processes, and inputs, and other additional studio fees separate from tuition like music licensing and insurance.
Details
Purchase Option type
Sessions
Duration
Purchase Option type:
Package
Duration:
Does Not Expire
Items Included in Package:
Star Enrollment, Annual Registration
Subtotal:

$

380

.00

Tax:

$

0

.00
Discount:

$

0

.00

Total:

$

380

.00