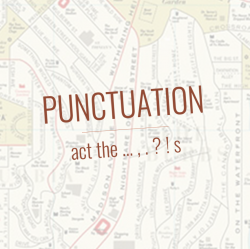 Punctuation Workshop w/ Live Zoom Event
Description
Attend our "Punctuation" Live Zoom event on Wednesday, May 12th at 6:30PM EST with David Cady.
You'll get all the "Punctuation" online video workshop materials sent to you beforehand, + you'll be able to practice live with other actors and instructor David. Workshops will cover how to use punctuation as an actor to identify and exploit tone, tempo, personality and tension. Commas, periods, and question marks are more than grammar — Learn to act the punctuation, and everything clicks.
This Package includes:
Access to Zoom Event on 5/12, Punctuation Workshop video, and downloadable sides to practice with at home.
Details
Purchase Option type
Number of Sessions
Duration
Purchase Option type:
Package
Number of Sessions:
Unlimited
Duration:
Does Not Expire
Items Included in Package:
Punctuation Online Video Workshop, Punctuation Zoom Workshop
Subtotal:

$

75

.00

Tax:

$

0

.00
Discount:

$

0

.00

Total:

$

75

.00