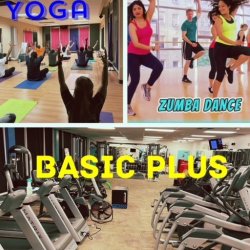 Basic Plus membership
---
Details
Purchase Option type:
Package
Number of Sessions:
Unlimited
ITEMS INCLUDED:
Annual Service Fee, $49 One time enrollment fee, $34 Basic Plus monthly dues
Show more
---
Description
Enjoy unlimited visits to the gym and group fitness classes (zumba and yoga).
membership is billed auto debit via eft .
Membership may be cancelled at any time with a 30 day written notice (mailed, signed form at gym, or email notification)
TOTAL Investment includes: $49 one time enrollment fee, first month's dues $34 (plus tax), and the $29 annual service fee (non taxed) for equipment upkeep/upgrades.
BONUS: ADD IMMEDIATE FAMILY MEMBERS LIVING IN SAME HOUSEHOLD FOR $15 per month! (spouse, kids under 22). family add-ons require $29 enrollment & $29 annual service fee.
Show more
Subtotal:

$

112

.00

Tax:

$

6

.23
Discount:

$

0

.00

Total:

$

118

.23