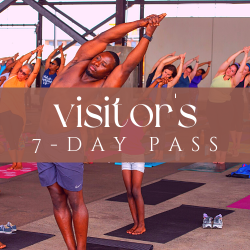 Visitor's 7-day Pass
---
Details
Purchase Option type:
Duration Pass
Number of Sessions:
Unlimited
Access to Sessions:
The Hot 26&2 Yoga Series, Mixtape Mondays - Hot 26&2, Warm Vinyasa, The Hot 26&2 Yoga Series, Warm Vinyasa & Yin, Ashe Flow, Free-Flow Power Vinyasa, Barre-Yoga Fusion, Hot Pilates
Show more
---
Description
$50 FOR ONE WEEK OF CLASSES!
-Come as many times as you want!
-Yoga mat included
-Download our FREE Magnolia Yoga Studio app to create a profile and book + cancel classes.
-Please make sure to cancel your classes at least 2 hours before they start. 6:30 AM classes must be canceled by 8:00 PM on the evening prior to class. If you forget to early cancel/don't come to class, you will be automatically charged $16.
*No refunds, transfers, or pauses can be made.
Show more
Subtotal:

$

50

.00

Tax:

$

0

.00
Discount:

$

0

.00

Total:

$

50

.00