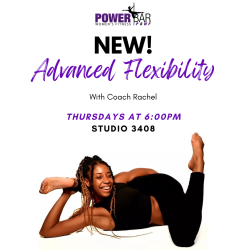 Advanced Flexibility Single Pass
---
Details
Purchase Option type:
Session Pass
Access to Sessions:
Advanced Flexibility
Show more
---
Description
Are you ready to start putting some of that new found flexibility in action? Ready to stunt for the 'gram? Want to test your limits? If you answered yes to any of these questions—then you belong here you baddass!
What you'll need:
-Water
-Work Ethic
-Smile
Show more
Subtotal:

$

29

.00

Tax:

$

0

.00
Discount:

$

0

.00

Total:

$

29

.00