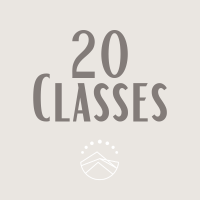 20 Class Pass (20 Classes)
---
Details
Purchase Option type:
Session Pass
Access to Sessions:
*Hot* Power, *Warm* Yin, *Warm* Power, Beginners, *Warm* All Levels, *Hot* Power follow the Yogi, Quick 40- Power Flow, *Warm* Vinyin, *Warm* Slow Flow, *Warm* AM Slow Flow, Thai Enhanced Yin Yoga, *Warm* Mellow AM Flow, *Hot* AM Power Flow, *Hot* All Levels, Power- No Heat 45 min Flow, All Levels- No Heat, All Levels W/ assists - No Heat
Show more
---
Description
Good for 20 classes from the Weekly Yoga Schedule. Excludes Prenatal.
Expires 1 year after purchase date.
Show more
Subtotal:

$

310

.00

Tax:

$

8

.53
Discount:

$

0

.00

Total:

$

318

.53