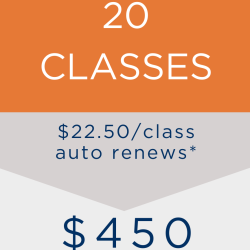 20 Classes - Auto Renew
---
Details
Purchase Option type:
Session Pass
---
Description
20 Classes for $450 ($22.50/class)
Expires 90 days from first visit.

Auto Renews after 90 days or when 20 classes are used up.
This will auto-renew at the end of 90 days or after the 20th class is attended.
To cancel the auto-renew option, contact the studio at judy@balancecapemay.com at lest 7 days before the last class is attended or the 90th day from first visit.
No refunds. No exchanges. No exceptions.
Show more
Subtotal:

$

450

.00

Tax:

$

0

.00
Discount:

$

0

.00

Total:

$

450

.00