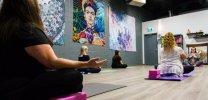 8 Week Yoga for Flexibility and Stillness (Yin Yoga)
Sep 28, 2022 - Nov 16, 2022
Commit to 8 weeks and save while creating consisency in your practice!
Join us for this relaxing and rejuvenating class where you will experience your body and mind in a different way.
In this class you will find yourself in postures for 3 min or longer and by doing this we stretch deep into the fascia and connective tissue that are often missed in a regular fitness or yoga class. This helps to restore the mind but create flexibility in the body!
Most postures are done on the ground and you are always welcome to use props to find your way into the pose. Find stillness and your edge and leave feeling ready to take on the week. This class is great for all levels.
Show more
Schedule
Sep 28, 2022 - Nov 16, 2022
Wed
6:15 - 7:15pm
Show more dates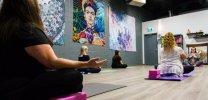 8 Week Yoga for Hips and Low Back
Sep 29, 2022 - Nov 17, 2022
Commit to 8 weeks of a class in a row and save! Buy using this purchase option you are committing to joining us for this class for 8 weeks in a row for a reduced price, no make up classes. But you get a sweet deal! Doing the same class consistently helps you to see your progress more clearly and helps with the accountability of knowing you are registered! PLUS! It guarantees you a spot in class, no worries about it being too full!
Join us for this well-balanced gentle class where we will open the hips and low back. We tend to carry a lot of stress in our hips and lower back and if you sit a lot during the day this can also be a problem area. This class is mostly done on the floor and there is not a lot of up-and-down movement. Lots of stretching, releasing, and a little bit of strengthening to help prevent future injuries. This class is great for all levels !
Show more
Schedule
Sep 29, 2022 - Nov 17, 2022
Thu
6:15 - 7:15pm
Show more dates
200 Hour Yoga For All Bodies Teacher Training: January 2023
Jan 6, 2023 - Jan 6, 2023
Yoga for All Bodies teacher training is not your average yoga teacher training program!
We provide everything that is necessary so that you can leave training ready to teach and amazing yoga class, but it is important to us to bring so much more to the table. We aim ultimate personal growth and transformational experience that will have you stepping out into the world in a new in different way. Your relationship with your self transforms, therefore changing how you interact with the world in your day to day. You will have a better understanding of your body and how it works, you will learn about your heart and the hearts of others, you will explore ancient teachings and apply them to your life in a real and meaningful way.
Here is what to expect along the path:
-We provide and inclusive yoga training that includes all bodies learning to teach to all bodies, you will learn Chair Yoga, Flow Yoga, Kids Yoga and everything in between but you will not find head stands or arm balances in our program

-This program is all ages 16-116

-We are teaching focused, meaning we want everyone to feel confident to teach their first class before they graduate

-We have a strong team of teachers that teach in their wheel house, we have very specific teachers for anatomy, meditation, kids yoga, the energies of yoga and yoga philosophy

-This training will push you out of your comfort zone in a loving and compassionate way

-This will change you in a way you can't even begin to imagine, the personal growth woven into this program is like no other

-There is homework, not a lot, but we expect you to practice yoga during the training and outside the training hours. You do NOT have to have a personal practice to start this training, but you should be excited by having a strong personal practice at the end of training
- We teach from many perspectives. We operate as a collective teaching unit, unique gifts and talents will be brought forward to you! All of the teachers will live in different bodies, come from different backgrounds and have taken different training. This brings about a unique experience of well rounded education.
-Functional Anatomy training. The anatomy training will not be endless lecture. It will be learning about a part of the body and then moving that part of the body. This will allow you to experience the anatomy of your own body and understand how the body actually works. Rather then just reading about it in a text book. Don't worry, those of you who love text... There is still that too!
-We lead with love, this program is more then just a training, it is community experience where will lift each other up and help each other through

-Training hours will be Friday 6pm-9pm and Saturday/ Sunday 1:00pm-7:00pm 2 weekends per month with an approximate 6 month completion. A well thought out schedule with shorter sessions to enhance your learning. Maximum time in classroom per day is 6 hours. Out history has taught us that 8-10 hour days are simply not as effective to learning.
-This is a commitment, mostly to yourself, but also to the instructors and your fellow students
-Most sessions will be recorded for your to download and keep forever

-It is a 200 Hour Training(180 in classroom, the other 20 hours is made up in assignments) and we are a member of The Yoga Alliance and our training is approved by them

-The cost of the program reflects the experience of the instructors and that it is a 200 hour training, the price is $2995.00 and there are no other additional costs

-We need a minimum of 8 students to run and will take a maximum of 16, small class sizes are important to us.
Curriculum

Over the course of our 200 hour training we will cover a variety of topics and information. All of which falls under the requirements set out by the Yoga Alliance as well as offers a unique approach to the modern world of yoga.
Our curriculum will include, but is not limited to:
Asana (physical postures)
Kids Yoga
Yin Yoga
Restorative Yoga
Pranayama(breathing)
Kriya
Chanting
Mantra
Various meditation techniques and how to teach meditation
Communication skills required for being a successful yoga teacher
Teaching Methodology, how to teach, time management etc
How to address the specific needs of individuals and special populations such as Chair Yoga
How to sequence classes
Qualities of a successful yoga teacher
Business aspects of teaching yoga
Human anatomy and physiology (musculoskeletal system, bodily systems, organs, etc.)
Energic systems, chakras, koshas, ect
The study of anatomy and physiology along with its application to yoga practice
The study of the history of yoga, philosophies and traditional texts
Yoga lifestyle, such as the 8 limbs of yoga, and the concepts of dharma and karma
Ethics for yoga teachers
Understanding the value of teaching yoga as a service and being of service to others
Practice teaching as the lead instructor
Learning how to create your own workshops
How to introduce sound, essential oils and other elements to your yoga class
Creating and holding space for your students
Personal growth activities, goal setting and ceremony
And so much more!
Schedule
Winter 2022 6 Month program January- June
Fridays 6-9 (some Friday sessions on zoom)
Saturday/Sunday 1:00pm-7:00pm
January 6,7,8
January 20, 21, 22
February 3,4,5
February 17, 18, 19
March 2,3,4
March 17,18,19
March 31, April 1, 2
April 21, 22, 23
May 5, 6, 7
May 19, 20, 21
May 26/27 Only Friday/ Saturday
June 9,10,11
June 18 Graduation Ceremony (Only Sunday)
What is included in your investment:
200 hour training if successfully completed will leave you certified as a RYT200hr through the Yoga Alliance. The Yoga Alliance is a governing body for yoga throughout the world and it is often what studios look for often when they are hiring.
• Comprehensive manual, designed for you to refer back to again and again.
• Small class size, lots of time for questions and one on one time.
Tuition $2,995.00 plus gst
Tuition can be split into payments via credit card payment plan.
Course must be paid in full by June 1, 2023.
All payments are non refundable.
Questions? We would love to chat with you! Contact us at aboveaverageyoga@outlook.com or call Trista at 780-999-5808
Show more
Schedule
Jan 6, 2023
Fri
7:00 - 10:00pm
Show more dates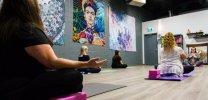 Grief Recovery Support Group
Jan 8, 2023 - Feb 26, 2023
Grief is the normal and natural emotional response to loss, but most of the information we've learned about dealing with loss is intellectual. We have also been conditioned with many myths and misinformations about grief such as "time heals all wounds" or "keep busy". Although this class will involve some educational elements, effective Grief Recovery must heal your broken heart, which requires emotional support instead of intellectual explanations.
The 8-Week Grief Recovery Support Group is an action-oriented program that is designed to support grieving people to help move beyond the pain caused by loss of any kind. There are over 40 different types of loss that can trigger feelings of grief. These losses can include but are not limited too loss of a loved one, loss of a pet, loss of job, divorce or other relationship loss and pregnancy loss.The method is not only intended for people who are grieving as a result of a death or loss of relationship. It is beneficial to anybody who has experienced the pain of unmet hopes, dreams, and expectations in any relationship. It can also help with regret about how things should have/could have been different, better or more. It may help you to overcome numbing or avoidance of grief and help you to get completion and more peace in all relationships.
The program is guided by "The Grief Recovery Handbook" by John James and Russell Freidman and includes weekly reading and homework assignments. It is very important to commit to the 7 weeks to the best of your ability and set aside 1 hour per week for homework. You also must purchase the Grief Recovery Handbook from audible, amazon or from Above Average Wellness.
This transformational support group is a safe and supportive space for you to examine what you've been taught about loss, to explore your beliefs about grief, how loss has impacted your life, and to complete a set of actions that will enable you to move forward in your life with hope and meaning. Whether you are grieving a recent loss or a loss from a long time ago, it is never too soon or too late to take the actions of this program.
Please contact Trista Davis directly with any questions at 780-999-5808
Testimonial: I had actually received my purple book(Grief Recovery Handbook) almost 5 years earlier. For some reason I just could never open it and do the work. I saw Trista was taking the training and when she had sessions available I knew it was time. Trista walked me through the process with patience, compassion and kindness. The process of course brought up feelings, feelings it was time to deal with but at the end I felt a huge weight had been released. I plan on going through the process again and even though I now know how to do it on my own I will still book with Trista for the final step because she is just simply great.
Testimonial: I took grief recovery with Trista to help resolve a situation that I had with a family member. It was a difficult process but was so worth it. I appreciated the way Trista used her own grief story to teach the course, it was comforting knowing that she too has done the work. Trista was authentic and vulnerable and made it a safe place for me to be as well. This course was such a growth opportunity for me and I do truly feel like I have experienced healing.
Testimonial: I hadn't experienced much grief in my life, or so I thought. I signed up for this program to provide myself with some tools to deal with future grief. I had no idea that this program would help me with present relationships that I hadn't categorized as grief. I didn't realize how much grief I HAVE experienced. My perspective has shifted completely and I was able to work through and find completion with a difficult relationship with someone who is a very big part of my life. I had never expected this result but the beauty of grief recovery is that the focus is on making YOU ok and working through the process in bite sized chunks makes it accessible and manageable even though it's hard work. I am so grateful for the vulnerability and courage shown by Trista and her modelling the way and creating a brave space for every member of the group to get the support they needed. The sisterhood was an added bonus that I also could never have predicted but is an extremely rewarding and special outcome that I will treasure. EVERYONE needs grief recovery because we are all going to experience grief and having the tools in your toolbox now will help you when the time comes.
Testimonial:The grief recovery sessions led by Trista were life changing. I had previously read most of the Grief Recovery Handbook and done some of the work, but never to completion. When I heard that she would be running the program, I knew that I had to be part of it! It may feel scary to face your grief and loss, but Trista and this beautiful community of women is there to support you through this journey. Not only did I gain the tools and skills to process my grief and complete my relationships, I gained the sisterhood, support, and friendship of some incredible women! You deserve this, you deserve to heal and to grow. Please give yourself this gift.
Show more
Schedule
Jan 8, 2023 - Feb 26, 2023
Sun
7:00 - 9:00pm
Show more dates