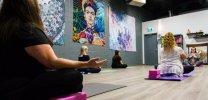 8 Week Yoga for Movement
Sep 26, 2022 - Nov 21, 2022
This focused class moves slowly through basic poses and has you learn to love with your breath, it ends with a cool down and relaxation. You will flow with your breath in postures and learn a lot about alignment. This is a well rounded class for those that want to move a bit more! Great for all levels, but as always we will have LOTS of instruction and variations of postures!
Show more
Schedule
Sep 26, 2022 - Nov 21, 2022
Mon
9:30 - 10:30am
Show more dates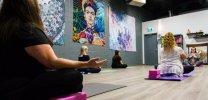 8 Week Yoga for Core, Neck and Shoulders
Sep 27, 2022 - Nov 1, 2022
Join Taylor Wideman for an experience on connection to the body, mind and breath through the transformative practice of Pilates and Yoga Fusion together. Pilates and Yoga combines is an amazing practice that helps to strengthen your core, create better postural alignment, helps to protect your back, allows for better balance and increases flexibility.
It is low-impact so it is great for just about anybody but it will have you noticing changes in your body right away! In this class you can expect to strengthen your core in a sustainable and accessible way. We will also put focus into releasing tension from the neck, shoulders and upper back.
Show more
Schedule
Sep 27, 2022 - Nov 1, 2022
Tue
6:00 - 7:00pm
Show more dates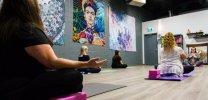 Online Holding Space for Grief Breathwork Workshop
Oct 3, 2022 - Oct 3, 2022
We have all felt loss at one time or another in our lives but sometimes there is not an opportunity to experience grief or loss dependent on where we are at in our lives.
Over the last couple years year many of us have felt loss in a new way, that is difficult to understand, it felt like the appropriate for me to create a breath workshop around the topic of grief.
Grief shows up different for everyone, and even shows up different with different situations and types of loss. This sometimes it is difficult to navigate how to support others in their grief.
When people are hurting, we want to do everything in our power to take it away, remove the pain, help the person feel good, and there is nothing wrong with that, it is just one of our operating systems as humans.
What I have learned about grief is that there is nothing to be fixed and there is not anything that will take the pain away in an instant and that sometimes space just needs to be held for the grief. During this breathwork session you will be given the opportunity to simply feel, to be held in a safe space of love and openness. It is an opportunity to be present in the heart with a supportive community. I hope you will join me!
Expect: discussion, meditation, concious connected breathwork and sharing.
Conscious Connected Breathwork is EXTREMELY powerful - it is essential that you read and agree to the waiver below before you join us. If you have questions or concerns, please get in touch.

I cant wait to breathe with you!



Show more
Schedule
Oct 3, 2022
Mon
7:30 - 9:00pm
Show more dates
Crystals 101
Oct 7, 2022 - Oct 7, 2022
There is no doubt crystals are beautiful, but did you know they can be powerful allies too?
Learn how to choose crystals specifically for your needs, how to activate and cleanse your crystals, and how to harness the power of their vibrations in this 1 1/2 hour workshop. Plus learn some really interesting geological information from our resident geologist Jordana~!
FREE crystals will be included as well as a STEEEP discount for attending!
Show more
Schedule
Oct 7, 2022
Fri
7:00 - 8:30pm
Show more dates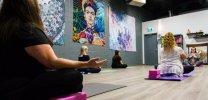 Practical Magic Mini Retreat for Women
Oct 8, 2022 - Oct 8, 2022
Join Trista Davis for a 5 hour workshop on learning the basics of getting started with ritual, cleansing and clearing techniques, meditation, crystals, essential oils and herbs! This will be a day of sisterhood learning about what we love about the natural world and earth based practices!

You will learn:
- about the cycles of the moon and how to work with them, we will create a 28 day ritual kit for you to connect with the moon and its power
-exploring mantra, the magic of the voice
-how to use your crystal collection to enhance your life, rather then it just sitting on the shelf, plus learn about a few special crystals that you will get to take home as part of the class
-self love and compassion practices
-connecting with nature, herbs and essential oils-create a special blend just for you, learn how to use essential oils safety and make your own personal use products
-creating and honoring your altar
-special meditations, ritual and teachings to connect you more deeply with yourself
and so much more!

Sign up soon, this is sure to sell out! Class will include all supplies and many take home items!
Show more
Schedule
Oct 8, 2022
Sat
1:00 - 6:00pm
Show more dates