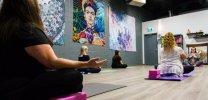 You Can Meditate: Mini Retreat
Nov 27, 2022 - Nov 27, 2022
Join Above Average Yoga's Trista Davis and Kat Boehm for a beautiful day of collective solitude that will include mindfulness, restorative yoga, sound bath and different forms of meditation. This is a great way to dip your toe into the world meditation and learn what style of meditation may work for you. Yes! There is more then one way to meditate and chances are that if you have tried meditation and it hasn't "worked" for you, you may just need to explore a new style! That is what this retreat is all about, experiencing many good ways to create more mindfulness, self awareness and peaceful moments in your life.
It is a special opportunity to unplug and restore the heart, mind and the body through silence, ancient yogic techniques, and healing practices. No meditation or breathwork experience required.
Schedule:
12:30pm Registration and Settle in
1pm: Introductions, Disolving the Myths of Meditation and creating freedom in your practice
1:30pm Exploring different methods of meditation and trying them
3:00pm Mindful Snack with Mindful Eating and Contemplation
4:00pm You are a Nervous System: Soothing practices to calm and anxious mind and create stillness in the body
5:30pm Setting Yourself up for Success, creating a meditation practice you LOVE
6:00pm Closing Intention Setting Ritual
The investment of the retreat includes some take home worksheets and instructions to continue your meditation practices as well as a very special crystal to use as a touchpoint to remind you to go deeper in your day to day. We will also provide yoga props, tea, water, a small snack as always other surprises are also included. Please let us know of food allergies upon registration by emailing aboveaverageyoga@outlook.com
This would be a great experience for those who are interested in taking the "Beyond Meditation Training" starting in January.
Limited Space Available. No refunds, but registration transfer is welcome.
Show more
Schedule
Nov 27, 2022
Sun
1:00 - 6:30pm
Show more dates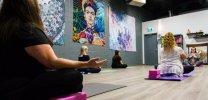 Practical Magic Weekend Retreat
Jun 1, 2023 - Jun 4, 2023
There is power in knowing the deep magic you hold. Join us for 3 nights in sisterhood of exploring all that you are!
On this magical 3 night retreat expect to experience soul healing, connection and community.
Your days will be filled with nature and amazing creative and educational workshops, making new friends and delicious and nutritious meals! Your evenings, filled with deep healing, fire ceremonies and rituals helping you to release all that does not serve you and step into more of all that you are.
Here are just a few of the topics we will explore:
-Deep Meditation and Powerful Breathwork Practices
- Healing through the power of ritual and sisterhood
-Connect to the Elements Of Earth, Fire, Water and Air
-Transform belief systems and create more joy, peace and love
-Explore ancient wisdom and apply them to modern life
-Create meaningful connections and lasting friendships
-Exploring Your Creative Power
-Mantra
-Crystals, Pendulums, Intuitive Development, Plant Medicine
Only $749 and includes:
-Healthy, warm, comforting meals and snacks
-3 nights of indoor accommodation with indoor plumbing
-Yoga, workshops, all materials needed for workshops
Bring a Friend to room with and save $50 with coupon code "friend"
Single Occupancy Available for an extra cost
Show more
Schedule
Jun 1, 2023
Thu
7:00 - 10:00pm
Jun 2, 2023 - Jun 3, 2023
Fri, Sat
8:00 - 8:00pm
Jun 4, 2023
Sun
8:00 - 12:00pm
Show more dates