Applied Musicality for Bachata Workshop
Dec 3, 2022 - Dec 3, 2022
WORKSHOP: Applied Musicality for Bachata
Join us for a 2-hour workshop going over all things musicality for Bachata! This workshop is meant for students who have completed at least one term of Fundamentals level Bachata courses or higher with Baza or have a solid understanding of their Bachata fundamentals and timing.

The workshop will cover the genre's music structure, the 3 main phases (Derecho, Majao, Mambo) of the songs, and how to pick apart the different instruments.
We will also explore the math behind the music to be able to recognize the placement of hits and breaks to add dynamicism to your dancing.
Topics covered include:
The Math Behind The Music
The Instruments
The 3 Main Phrases: Derecho, Majao, Mambo
History & Culture
***This is NOT a patterns/combo based class, but we will have movements designed to help understand the music. As Jorelle & Monica are Bachata Sensual dancers, the movements will be more sensual bachata based.
Show more
Schedule
Dec 3, 2022
Sat
1:00 - 3:00pm
Show more dates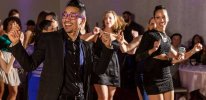 Get To Know Workshop: Intro to Salsa & Bachata
Dec 10, 2022 - Dec 10, 2022
Curious about Latin Social Dancing but don't know where to start? Get to Know Salsa & Bachata with Baza!
Our GTK sessions are a chance for you to Get To Know the dance, Get To Know our lovely instructors and Get To Know Baza and the amazing vibes here!

These special Intro workshops are catered to Absolute Beginners. We know starting on your dance journey can be a bit scary at first or intimidating, which is why these sessions are a perfect place to start. The pace will be nice and slow, allowing you to wet your feet in the dance without feeling too overwhelmed. You will learn the very basics of the dance which will allow you to feel more confident heading into our Level 1 classes. Most of our students are here to have fun, mingle and get into Social dancing in this amazing community!
No experience is necessary! These workshops are catered for those new to Latin social dancing, and a perfect primer for our Intro courses.
Open to all dancers of all ages, backgrounds, and skill levels, signing up with a partner is not requred as leads and follows will rotate (change partners) throughout the workshop.
Cost: $45 + GST per person
GTK Instructors: Kristal and John
FAQs:
Do I need to sign up with a partner? You do not need to sign up with a partner! It is very common for folks to sign up for partner dance classes as individuals. While traditionally males are leads and females are follows, we are open to individuals making their choice when coming to learn with us. We just ask you that whether you choose to be a lead or a follow that you stick with that role until you are very experience dancer.
If I have a partner can we sign up together? Each person has to sign up individually - if you want to pay for two people please email us at dance@bazadance.com to get that set up properly for you.
How long is each workshop? 2 hours,: 1 hour of Salsa, 1 hour of Bachata, with a water break in the middle
What will I learn? Students will learn the fundaments of Salsa and Bachata - the instructor will focus on the foundation figures as well as cover fundamental theory behind lead and follow.
If I attend the workshop only once am I ready for Level 1? GTK workshops are designed to prepare students to enter Level 1 classes right away, but if you're feeling not-quite-ready there is nothing stopping you from taking a GTK workshop more than once.
How often do GTK workshops take place? Currently GTK Workshops will take place one Saturday a month.
Show more
Schedule
Dec 10, 2022
Sat
11:00 - 1:00pm
Show more dates
Baza Intro Salsa Know Your Stuff Challenge
Dec 12, 2022 - Dec 12, 2022
You've just completed a course of Intro Salsa in the Fall Term with Baza Dance Studios and now it's time to be sure you KNOW YOUR STUFF!
Baza's Know Your Stuff workshop and practice is for students who have recently completed Baza's Salsa Intro Progressive Partner Dance Course and a chance to review everything they've learned and have an opportunity to get used to social dancing!
WHEN: Monday December 12, 6:30 - 8:30pm
Instructors: Kristal & John

Cost: $20 + GST per person
Includes:
- 1 hour of Salsa Intro intensive review
- 1 hour of social dancing

(This workshop is included in the Membership for Baza Members)
Show more
Schedule
Dec 12, 2022
Mon
6:30 - 8:30pm
Show more dates