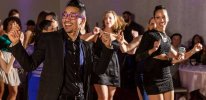 Monday KIDS Hip Hop (ages 5-8)
Sep 12, 2022 - Dec 12, 2022
Kids Hip Hop (ages 5-8 yrs*)
Mondays at 4:30 - 5:15pm
Location: Baza Dance Studios, 1304 Seymour St, Vancouver
Instructor: Antonya
FALL TERM: 13 weeks, Sep 12 - Dec 12, 2022 (no class Thanksgiving Monday Oct 10)
Looking for a fun activity for your child to help them burn some energy and allow them to interact in a safe setting? In our Kids Hip Hop classes, we will be teaching your kids to a mixture of popular Hip Hop Music! Throughout the Term they will learn movement and musicality through interactive games, movement exercises and short choreography which they will have an opportunity to perform at the end.
*for students aged 5-8 years old as of September 12, 2022
Why are dance classes beneficial?:
Dancing helps to keep your child active and learning new skills.

Dance is great for the mind and body and can positively influence your child's development and emotional well-being.

Dance encourages kids to release their inhibitions and build confidence.

Dancing sparks a child's creativity!

Your child will learn discipline and structure through fun choreography and games.

Let us entertain your kids while you give yourself some free time to catch up on other chores, activities or just relax!
**LIMITED SPOTS AVAILABLE**
Pricing for fall term: $180 + GST per child
NOTE: Our in-studio classes sizes will be limited. No refunds once the program has started. We also please ask you to cancel your class if your child is unable to attend in any given week.
How to Register:
-----------------------
1) Create an account for yourself (the parent)
2) Go to your profile, and add your child as a family member
3) Using your child's profile, go to "Book Now" and register for the Kids program of your choice!

Any questions or problems, don't hesitate to call us at 778-379-2292 or email dance@bazadance.com
Show more
Schedule
Sep 12, 2022 - Dec 12, 2022
Mon
4:30 - 5:15pm
Show more dates