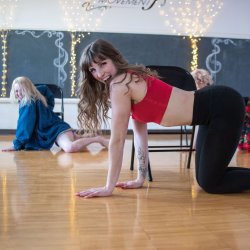 Most Moxy! Unlimited Membership
---
Details
Purchase Option type:
Membership
Number of Sessions:
Unlimited
Access to Sessions:
Active Flexibility, Belly Dance, Yoga, Core Conditioning & Belly Dance Drills., Hammock Tech 1, Hammock Tech 1/2, Hammock Tech 2/3, Heels & Sensual Flow: Beginning, Heels Flow: Intermediate, Lyra Choreography 2, Lyra 1/2, Lyra Tech 3, MoXXXy, Open Stage Night #105, Open Studio #105, Open Studio #205, Pole Conditioning & Inverts, Pole Dance Choreo Level 2, Pole Tech 1, Pole Tech 2, Pole Tech 1/2, Pole Tech 2/3, Pole Tech 3/4, Summer Flex/Open Time, Vinyasa Flow Yoga, Yoga for Dancers/Aerialists, Meditation Workshop w/ Susie, Pole Dance Level 2, Open Stage Night #205, Foundation Training Intro, Hammock Choreography 2, Lyra Tech All Levels
Show more
---
Description
Get the MOST out of your MOXY! This option will give you UNLIMITED CLASS ATTENDANCE for all regular classes, Open Studio times , access to UNLIMITED CLASSES ONLY, as well as special pricing for personal studio rental time. Enjoy the life changing benefits of regular practice, 3+ times a week! We'll see you on the moon, Darling!
*Renews every 4 weeks.
Show more
Subtotal:

$

197

.00

Tax:

$

0

.00
Discount:

$

0

.00

Total:

$

197

.00