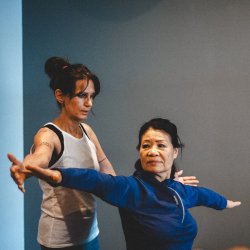 3 Private Sessions for the Beginner Yogi
Description
This package of three private sessions is designed for the new yoga student who is looking to confidently join group classes.
Group classes are a great way to practice - where you are constantly being offered ways to grow, safely under the instruction of a teacher - but not an ideal place to ask questions or request specific help. These one-on-one sessions will give you individualized attention with a qualified instructor so that you'll be able to have a conversation about the development of your practice, refine your poses to understand safe alignment and attend group classes with more confidence.
This package will be booked with a Senior Teacher. Expires 3 months from purchase date. Sessions must be booked within 45 days of each other. Weekly sessions are recommended. As with all appointments, a minimum of 48 hours notice is required to cancel or reschedule without incurring a penalty charge of one session.
Details
Purchase Option type
Clients can attend
Sessions
Duration
Purchase Option type:
Session Pass
Clients can attend:
Private Yoga Session
Subtotal:

$

240

.00

Tax:

$

0

.00
Discount:

$

0

.00

Total:

$

240

.00