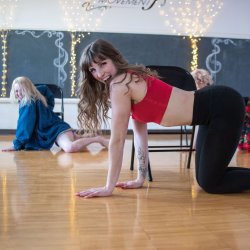 Most Moxy! Unlimited Membership
---
Details
Purchase Option type:
Membership
Number of Sessions:
Unlimited
Access to Sessions:
Active Flexibility, Belly Dance 1/2, Yoga, Core Conditioning & Belly Dance Drills., Hammock 1 Technique, Hammock 1+2 Technique, Hammock 2+3 Technique, Heels & Flow: Beginning, Heels Flow: Intermediate, Lyra Choreography Level 2, Lyra 1+2 Technique, Lyra 3 Technique, MoXXXy, Open Stage Night #105, Open Studio #105, Open Studio #205, Pole Conditioning & Inverts, Pole Dance Choreo Level 2, Pole 1 Technique, Pole 2 Technique, Pole 1+2 Technique, Pole 2+3 Technique, Pole 3+4 Technique, Early Open Time, Vinyasa Flow Yoga, Yoga for Dancers/Aerialists, Open Stage Night #205, Foundation Training, Hammock Choreography Level 2, Lyra All Levels Technique, SPOOKY Pole ALL Levels, SPOOKY Belly Dance, SPOOKY Lyra Tech All Levels, Chair Dance All Levels, New Year's Eve Pole Choreography, Heels All Levels, Pole All Levels, Pole 2 - 4, Hammock Technique All Levels, Hip Hop Dance, Flex & Floor Flow, Silks Level 1, Pole En Espanol 1+2 (& English), Tumbling Essentials
Show more
---
Description
Get the MOST out of your MOXY! This option will give you UNLIMITED CLASS ATTENDANCE for all regular classes, Open Studio times, as well as special pricing for personal studio rental time. Enjoy the life changing benefits of regular practice, 3+ times a week! We'll see you on the moon, Darling!
Show more
Subtotal:

$

197

.00

Tax:

$

0

.00
Discount:

$

0

.00

Total:

$

197

.00