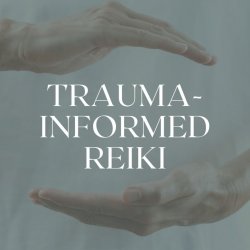 Trauma-Informed Reiki 60 Minute
---
Details
Purchase Option type:
Session Pass
Duration:
Does Not Expire
Access to Sessions:
Trauma-Informed Reiki 60 Minute
Show more
---
Description
Trauma-Informed Reiki encourages choice where you have the options to choose what you would like to work on and what your session will look like. Traditional reiki can include lying down and light touch. This can be triggering and feel too vulnerable for trauma survivors. Trauma-informed reiki allows you to choose your position and if touch is okay. If you are not comfortable with touch, Reiki can be transmitted without contact through a process called beaming. Reiki can also be done remotely through distance healing where I can send the energy to you wherever you are. We don't have to be in the same room.
Show more
Subtotal:

$

210

.00

Tax:

$

0

.00
Discount:

$

0

.00

Total:

$

210

.00