Shine Your Light Yoga Festival
The National Shine Your Light Yoga Festival brings together yogis across the United States as studios and fitness centers open their doors to support survivors of sexual violence in their healing with a special class. Join this virtual class with trauma-informed instruction.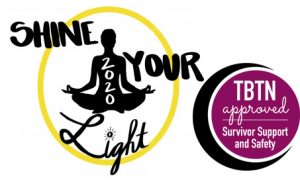 Friends, supporters, family members and those who stand against sexual violence in all forms are encouraged to participate! This event is a national, collective breath of strength, support and healing for survivors.
Centered is offering this class because we believe there is healing to be found for all survivors of trauma through Yoga. Join Jennifer Little for gentle guidance towards the health and support that lies within you!
All proceeds go to the Take Back the Night foundation. More information on their mission can be found at takebackthenight.org
other Shine Your Light virtual classes (all day 12/12) can be found at https://takebackthenight.org/syly-virtual/
More about Jenn...
Jennifer Little (She/Her) is a 27 year old trauma survivor. Occupationally, she is a Yoga Alliance Registered Yoga Teacher and the Assistant Director at Centered. Jennifer was 200-hour certified from the Lexington Healing Arts Academy and began teaching Yoga in June 2019. She is currently training under Amanda McMaine and Cara Sparkman at the Essence of Yoga Center.
Jennifer's practice is founded upon values such as the necessity of kindness and the nondual nature of reality. Her teaching method is aimed toward guiding students to a state of deep listening by gently easing the body and mind into a self-informed journey of gentle releasing and strengthening. In class, expect a dive into your physical and Yogic body and the empowerment of right relationship between you and your natural resources.
Schedule