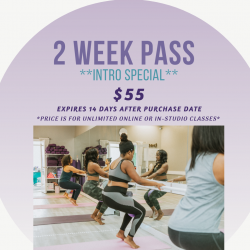 2 Weeks Unlimited
---
Details
Purchase Option type:
Duration Pass
Number of Sessions:
Unlimited
Access to Sessions:
Body Sculpt Bootcamp, MERGE : Sculpt+Stretch, Zumba Fitness, Dance Fitness, Barre + DEEP, BUTI Yoga, DEEP Restore, Primal Flow, Barre Fitness, Sacred Practice: Kemetic Yoga, Sunrise Meditation, Chair (Adaptive) Yoga, Hot-Power Yoga, MERGE *On Demand*, Pilates w/ Dana, Pilates w/ Judi, Yin + Meditation, Sculpt + Stretch, Dance Choreography, Soultry Flow w/ Rhema, Hot Vibes Yoga, SENSUATE, BUTI Express, Mid-day Yoga Reset, Yin Yoga, R&B/NEO SOUL YOGA, POUND Pilates, Kemetic Yoga Sculpt, Beginner Kemetic Yoga, ZUMBA - Burn the Bird, Dance Choreography, Body Sculpt Bootcamp, POP UP YOGA, POUND Unplugged Pilates, HotCore, Compliments Of The Collective(Apr 15, 2023 - Apr 15, 2023), LATIN NIGHTS W/LOV(May 4, 2023 - May 4, 2023), Pink Pilates w/Judi(Oct 14, 2023 - Oct 14, 2023)
Show more
---
Description
Join us for any of our weekly scheduled classes whether you choose to join us in person or online! This pass gives you UNLIMITED Access for 2 whole weeks!!!
Fun Fact: Angel Number 55
As a master number, 55 is the number of independence, freedom, and self-determination. When this vibration is operating in your life, it means that you should be forward-looking and focus your mind on learning new things.
Let us be a solution to your wellness journey as you put healthier tools in your life toolbox!!!
*All Intro Offers are nonrefundable.
** Pass expires 2 weeks after your first class is attended
Show more
Subtotal:

$

55

.00

Tax:

$

0

.00
Discount:

$

0

.00

Total:

$

55

.00