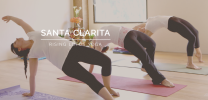 Self healing practices and energy flow 2-1
Description
Cara will share some basic understandings techniques and mindsets on healing your body and realigning energy systems. We will begin by droppiong into guided yoga Nidra through the Chakras, followed by gentle intentional movement to awaken and focus our mind. Afterwards cara will discuss her findings and learned tools on how to allow healing in our body,mind and soul. We will then apply these pracrtices on ourselves and there will be plenty of room for discussion. No understandings or previous experience with energetic healing or the Chakra systems is required for this class.
10% of the proceeds from this event will be donated to Australia fire relief efforts and wildlife conservation efforts.
Details
(Type: Event, Period: Feb 1, 2020 - Feb 1, 2020, Sessions: 1)
Duration
Days of week
Time
Location
Staff
Repeat every
Subtotal:

$

40

.00

Tax:

$

0

.00
Discount:

$

0

.00

Total:

$

40

.00
Only the first 50 items are displayed. Use the Search or Filter options to show more.