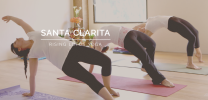 40 in 60 wellness challenge
Description
We know it's hard to make a commitment to yourself.
That's why we're here to help you stay motivated and focused in the New Year with a challenge of completing 40 classes in 60 days.
Complete the challenge and receive a RLY challenge T-shirt and be entered into the challenge raffle to win a private yoga session with Heather OR an NKT session with Claire!
Challenge yourself to stick with it, work hard, relax more, and feel great!
Members: Sign up for $20 registration fee or free with non-member referral (referral must purchase wellness challenge package)
Non members: Sign up for $240 and receive 60 days of membership (all other class packs may be placed on hold during challenge)
plus $20 reg fee
Details
(Type: Event, Period: Jan 20, 2020 - Mar 21, 2020, Sessions: 62)
Duration
Days of week
Time
Location
Staff
Repeat every
Jan 28, 2020 -
Mar 21, 2020
Mon / Tues / Wed / Thur / Fri / Sat / Sun
9:00AM - 10:00AM
Rising Lotus Yoga SCV
1 week
Subtotal:

$

20

.00

Tax:

$

0

.00
Discount:

$

0

.00

Total:

$

20

.00
Only the first 50 items are displayed. Use the Search or Filter options to show more.