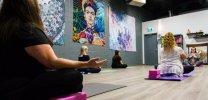 8 Week Grief Recovery Support Group for Women
Description
Grief is the normal and natural emotional response to loss, but most of the information we've learned about dealing with loss is intellectual. We have also been conditioned with many myths and misinformations about grief such as "time heals all wounds" or "keep busy". Although this class will involve some educational elements, effective Grief Recovery must heal your broken heart, which requires emotional support instead of intellectual explanations.
The 8-Week Grief Recovery® Support Group is an action-oriented program that is designed to support grieving people to help move beyond the pain caused by loss of any kind. There are over 40 different types of loss that can trigger feelings of grief. These losses can include but are not limited too loss of a loved one, loss of a pet, loss of job, divorce or other relationship loss and pregnancy loss.The method is not only intended for people who are grieving as a result of a death or loss of relationship. It is beneficial to anybody who has experienced the pain of unmet hopes, dreams, and expectations in any relationship. It can also help with regret about how things should have/could have been different, better or more. It may help you to overcome numbing or avoidance of grief and help you to get completion and more peace in all relationships.
The program is guided by "The Grief Recovery Handbook" by John James and Russell Freidman and includes weekly reading and homework assignments. It is very important to commit to the 8 weeks to the best of your ability and set aside 1 hour per week for homework. You also must purchase the Grief Recovery Handbook from audible, amazon or from Above Average Wellness.
This transformational support group is a safe and supportive space for you to examine what you've been taught about loss, to explore your beliefs about grief, how loss has impacted your life, and to complete a set of actions that will enable you to move forward in your life with hope and meaning. Whether you are grieving a recent loss or a loss from a long time ago, it is never too soon or too late to take the actions of this program.
Please contact Trista Davis directly with any questions at 780-999-5808
Testimonial: I had actually received my purple book(Grief Recovery Handbook) almost 5 years earlier. For some reason I just could never open it and do the work. I saw Trista was taking the training and when she had sessions available I knew it was time. Trista walked me through the process with patience, compassion and kindness. The process of course brought up feelings, feelings it was time to deal with but at the end I felt a huge weight had been released. I plan on going through the process again and even though I now know how to do it on my own I will still book with Trista for the final step because she is just simply great.
Testimonial: I took grief recovery with Trista to help resolve a situation that I had with a family member. It was a difficult process but was so worth it. I appreciated the way Trista used her own grief story to teach the course, it was comforting knowing that she too has done the work. Trista was authentic and vulnerable and made it a safe place for me to be as well. This course was such a growth opportunity for me and I do truly feel like I have experienced healing.
Testimonial: I hadn't experienced much grief in my life, or so I thought. I signed up for this program to provide myself with some tools to deal with future grief. I had no idea that this program would help me with present relationships that I hadn't categorized as grief. I didn't realize how much grief I HAVE experienced. My perspective has shifted completely and I was able to work through and find completion with a difficult relationship with someone who is a very big part of my life. I had never expected this result but the beauty of grief recovery is that the focus is on making YOU ok and working through the process in bite sized chunks makes it accessible and manageable even though it's hard work. I am so grateful for the vulnerability and courage shown by Trista and her modelling the way and creating a brave space for every member of the group to get the support they needed. The sisterhood was an added bonus that I also could never have predicted but is an extremely rewarding and special outcome that I will treasure. EVERYONE needs grief recovery because we are all going to experience grief and having the tools in your toolbox now will help you when the time comes.
Testimonial:The grief recovery sessions led by Trista were life changing. I had previously read most of the Grief Recovery Handbook and done some of the work, but never to completion. When I heard that she would be running the program, I knew that I had to be part of it! It may feel scary to face your grief and loss, but Trista and this beautiful community of women is there to support you through this journey. Not only did I gain the tools and skills to process my grief and complete my relationships, I gained the sisterhood, support, and friendship of some incredible women! You deserve this, you deserve to heal and to grow. Please give yourself this gift.
Details
Type: Event
Period: Jan 20, 2022 - Mar 17, 2022
Number of Sessions: 9
Duration
Days of week
Time
Location
Staff
Repeat every
Subtotal:

$

199

.00

Tax:

$

9

.95
Discount:

$

0

.00

Total:

$

208

.95