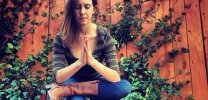 Wisdom Skill & Grace: Self Inquiry System + Yoga Teacher Training
Description
200 Hour Yoga Alliance Registered Program
Self Inquiry means: You'll study (and learn about you) YOU- your body, your physical patterns, and the crazy monkeys that live in your head and sometimes run your life. You'll also discover the real you, the best version, the voice of reason and the wisdom that's sometimes harder to hear... yet always there.
Yoga Teacher Training Means: You'll learn about other bodies, other challenges, other abilities. You'll learn to present, lead, see, and TEACH with a little bit of wisdom (cuz a lot takes more than 200 hours), a fair bit of skill and a whole lot of grace.
Style of Yoga: Mindful Flow: An approach to Vinyasa Yoga that's mindful, breath-centered, smart, purposeful, and deep. We build strength without force. we get more by being skillful rather than going faster.
When and Where?
4 Modules at Asha Yoga, Sacramento, CA
*Thursday & Friday 4:30-9:30pm, Saturday 9am-6pm, Sunday 7am-3pm
*January 25-28
*February 8-11 & 22-25
*March 8-11
+RETREAT: March 20-25 Grass Valley, CA, Retreat
+EXAM: April 21 12:30-4:30pm at Asha Yoga
Training Price Includes
$50/month unlimited Asha Yoga membership beginning as soon as you've paid in full for training through final weekend module (regularly $119/month)
Meals and accomodations for 5 night retreat
3 group mini-retreats to Asha Urban Baths
300+ page training manual
200+ hours of training, guidance and support
***NOTE***
Application Required
Payment Plans available before August ONLY
For questions contact cori@ashayoga.com
Special Instructions
Please be sure to review every detail of the contract before completing this registration and payment process. Upon payment in full, expect a welcome letter via email within 7-10 days. This letter will include required program materials and assignments to be completed prior to the first day of training.
We look forward to connecting soon!!
Details
(Type: Event, Period: Jan 25, 2018 - Apr 21, 2018, Sessions: 23)
Duration
Days of week
Time
Location
Staff
Repeat every
Subtotal:

$

3

247

.00

Tax:

$

0

.00
Discount:

$

0

.00

Total:

$

3

247

.00