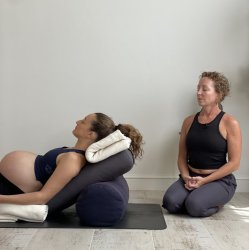 Prenatal drop-In (1 session)
---
Details
Purchase Option type:
Session Pass
Duration:
Does Not Expire
Access to Sessions:
LIVE STREAM: Vinyasa-All Levels, LIVE STREAM: Yin Yoga, LIVE STREAM: Beginner's Yoga, LIVE STREAM: Vinyasa-Power Flow, Prenatal Yoga, LIVE STREAM: Morning Mobility Flow
Show more
---
Description
1 Session
Description:
This 5-week Prenatal Yoga Series is designed to support all moms-to-be, in all stages of their pregnancy. Through specifically designed yoga practices, we address the changes that occur in the female body during pregnancy, and learn targeted mindful, exercises to build strength, endurance, softness, and connection that aid in a more easeful pregnancy and labor.
This class will offer practical tools in breath work, movement, and restorative practices.
Your facilitator has over 20 years yoga teaching experience, and has been a prenatal teacher and educator for 10 years, supporting hundred of moms in their pregnancy journey.
Learn more about Kelly Haas at www.kellyhaasyogatherapy.com.
Show more
Subtotal:

$

30

.00

Tax:

$

0

.00
Discount:

$

0

.00

Total:

$

30

.00