Jun 21 2022, 9:00 AM
How to Run Outdoor Bootcamps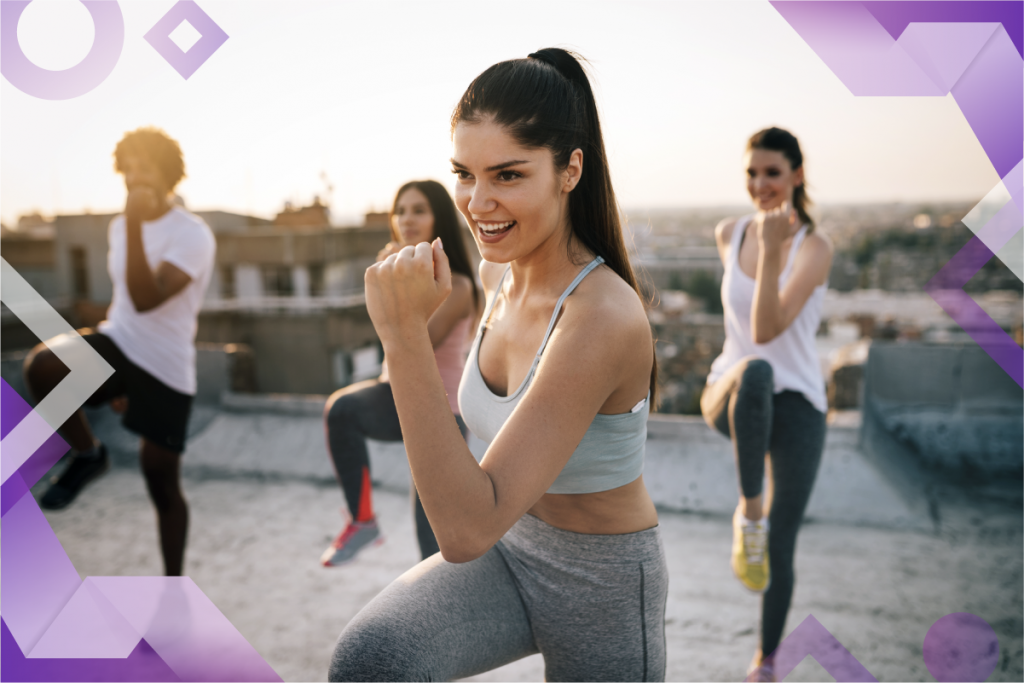 The pandemic has given rise to outdoor exercise more than ever before. Over 72% of gym members said running and other outdoor bootcamp workouts were now their most preferred way to achieve their fitness goals. According to the American College of Sports Medicine's annual survey, outdoor fitness and group training ranked among the 20 top trends for 2022.
So while most gyms and fitness studios have reopened for indoor training sessions, it's clear that the fitness industry is still taking a hit. The solution may lie in holding outdoor bootcamp classes. In fact, outdoor fitness training rose 15% between 2020 and 2021, and the prediction is that it will continue to be a preferred form of exercise.
Summer is the perfect time of year for any fitness business to add outdoor bootcamps and workouts to their schedule. Bootcamp-style workouts have been around for decades, and they combine a series of bodyweight exercises and high-intensity movements like push-ups and burpees.
What else do fitness instructors and studio owners need to know before starting an outdoor bootcamp program? We'll set you up with everything you need for a successful outdoor bootcamp, including the types of bootcamp, best locations, permit details, and tips to market your bootcamps. You'll be strengthening your community one bootcamp at a time!
What are the benefits of outdoor bootcamps?
Whether you want to launch your own outdoor bootcamp business or add it as part of your offerings, bootcamps are a great way to bring in more revenue, meet clients in person, and grow your community. Let's take a closer look at a few benefits of incorporating outdoor bootcamps to your business model.
Generate additional revenue
You're already charging regular membership fees, but outdoor bootcamps can be charged as an additional fee, which may attract even more members. Charging per class or week allows your fitness business to expand your offerings and attract more clients. Plus, the per-class fee can be used to supplement your existing revenue.
Respect social distancing needs
One of the main reasons people avoid going back to indoor classes is because they fear the presence of COVID-19. Many think an indoor fitness center is the best place to catch the virus. Being outdoors allow clients to maintain social distancing and respect the personal space of others.
Strengthen your community and retention numbers
Social distancing has taught people to be less social. However, as humans, we need social interaction to maintain a healthy and balanced life. Having a group fitness class like a bootcamp on the schedule can motivate and strengthen your community. In general, when fitness members exercise with a friend or workout partner, they are held accountable and will continue to attend bootcamp sessions. This will lead to stronger retention numbers for your business.
What type of outdoor bootcamp will you offer?
Delivering the best outdoor bootcamps begins with choosing your niche. You'll need to think about your target audience, while still standing out from your competition with a bootcamp that's exciting and attracts new members. Need some inspiration for some fun outdoor bootcamp ideas?
An eight-week summer reset program
A fat-burning, weight loss bootcamp
Running drills with 5K marathons
Military fitness-style bootcamps
Yoga-style bootcamps featuring 108 sun salutations
Bootcamps designed around HIIT workouts, abdominal exercises, and resistance training
Another benefit is that most outdoor bootcamps don't require any equipment. All you need is a combination of bodyweight exercises for your clients to see results.
Pick your location
Before you start planning on your first bootcamp, it's essential that you find the right place. Location is everything, so research potential areas that are common for outdoor bootcamps and fitness classes. Make sure it's a location that's accessible to your community. If it's further away from your studio, make sure it's easily accessible with transit or parking options. You should choose an area where your clients can easily spread and still hear and see you clearly.
Do you need a permit?
Having parks or parking lots available for your outdoor bootcamp is a great idea, but it doesn't mean that it comes without some costs. In many cities in the U.S., there are permits and additional charges for hosting group workouts in public spaces. Although it's a relatively inexpensive option compared to the rent at your gym or studio, it still needs to be factored in when planning your outdoor bootcamp events. The sooner you research permits on your local Parks and Recreation department, the better. It can take months to get a permit approved.
Market your outdoor bootcamps
Now that you know what type of bootcamp to offer and where you'll host it, you need to promote it. Here are some tips to let your audience know about your upcoming bootcamp.
Automated marketing campaigns
Set up a quick automated marketing campaign to promote your outdoor bootcamps through email, push notification, or SMS. Want to fill up your bootcamps fast? Keep in mind that 97% of businesses communicate more efficiently with customers after adding text messaging to their communication strategy.
Video marketing
Videos are also a powerful tool to get the word out, especially on social media platforms like Instagram, Twitter, and Facebook, all with high engagement rates for video. With video capable of increasing conversion rates by 80%, it's the perfect marketing strategy to promote your outdoor bootcamps.
Facebook events
Create a dedicated Facebook event for your outdoor bootcamps. This allows you to promote it on Facebook while gauging interest from your audience. It's also an easy way for your followers to share your bootcamp with their Facebook friends that may be interested.
Social media contests
Set up a social media contest with an eight-week outdoor bootcamp as the prize. Entering the contest is the perfect way to increase engagement and create awareness for your bootcamp. All participants need to do is like or follow you on social media, like the post promoting the contest, and tag a friend. Platforms like Osortoo allow you to pick random winners for Instagram or Facebook contests.
Partner with local businesses
Partner with other related local businesses like health food stores or other studio owners. Give them a discount to your studio or bootcamp in exchange for promoting your bootcamp on social media and at their business.
Get found on Google
If you have a regular location for your outdoor fitness sessions, you can add it to your profile to show up on Google Maps using your Google Business Profile. This way, people searching for fitness classes in your area will be able to find you easily. Clients can reserve their spot directly on Google or leave a review.
Take your outdoor bootcamps to the next level
Whether you're a gym, health club, or personal trainer, now is the perfect time to add outdoor bootcamps to your class schedule. It's great for your community and can add to your revenue stream.
Are you ready to take your outdoor bootcamp offerings to the next level? WellnessLiving can help streamline the process. The Achieve™ Client App lets clients seamlessly book, pay, and check in for your bootcamps. In addition, our automated marketing suite allows you to promote your outdoor bootcamps via email, text, or push notification.
Want to learn more about how WellnessLiving can help grow your outdoor bootcamps? Book a free, no-commitment demo today for more.